Honor and Remember Flag Commission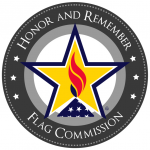 Justification
Since the inception of the Honor and Remember organization, there has been a subtle hindrance to our ability to completely explain how and why our organization's mission is different from all others. There are tens of thousands of veteran-oriented nonprofits in the United States. We can easily be lost in the multitude and considered just another one of many. Occasionally, in discussions with potential supporters, there is a mistaken assumption that to assist us would create an equal obligation to assist another. The fallacy in that thinking is the failure to recognize that our organization is unlike any other because of its single and unique focus.
Honor and Remember is the only organization in America dedicated to bringing public awareness to the cause of remembrance by the establishment of a national symbol. Our mission is to institute a specific symbol that publicly recognizes every fallen military service member and their families. This goal sets us apart from all other groups and it is unique in this country and the entire world.
We believe that in order to punctuate that distinction, it is important for us to operate under a designation that expresses a sense of importance, uniqueness and official purpose. With these fundamentals in mind, the Honor and Remember Flag Commission was initiated. Through this specific branding, we will reinforce our position of distinction, which will help us to achieve greater differentiation and create a sharper image of our mission.
Recognizing the sacrifice of our fallen and their families is of utmost necessity to our nation. With the creation of a singularly focused Commission, we can more strategically bring communities together to participate in leaving this permanent legacy of appreciation.
As the Honor and Remember Flag Commission, we will be able to communicate more clearly our particular purpose. It is our hope that many will embrace a commission's purpose and goals with much more enthusiasm than they would engage with any individual organization. That purpose, in its purist form, is to promote national remembrance through a specific visual symbol.
The Honor and Remember Flag Commission is dedicated to establishing, promoting and protecting a nationally recognized symbol of remembrance: The Honor and Remember Flag.
Mission and Vision
The Honor and Remember Flag Commission is dedicated to establishing, promoting and protecting a nationally recognized symbol of remembrance: The Honor and Remember Flag.
This remembrance flag recognizes all individuals who have died as a result of serving in the United States military dating back to the founding of our nation. It serves as a positive symbol of national gratitude for the hundreds of thousands of American men and women who bravely made the ultimate sacrifice to preserve the freedoms we enjoy.
Displaying the flag will also help to bring a measure of healing to the thousands of families who cry for and deserve recognition for the sacrifice of their loved one. It is a nationally recognized reminder to all Americans, enabling them to celebrate the value of each individual life given.
Goals
• Adoption of the flag by the federal government as a national symbol
• Adoption of the flag by all state and municipal governments
• Recognition and display of the flag by businesses and corporations
• Endorsement by various organizations
• National awareness and education
Joining Forces
Through our mission of national public remembrance, we cannot measure or achieve widespread awareness without the multilevel support of legislators, corporate partners, veterans and the supporting public who believe that sending a message of appreciation is important to the well-being and patriotism of our nation.
Commission Pledge
As an individual citizen or group representing military institutions or associations, civic or service organizations or independent businesses, I/we pledge to join with the Honor and Remember Flag Commission to give tribute to our nation's fallen military and their families by embracing and flying the Honor and Remember flag, a tangible and dedicated symbol of remembrance. By displaying this flag collectively as a nation, we humbly recognize the enormity of sacrifice and collectively express our appreciation.
By acknowledging this pledge, it is your desire to bring local and national attention to the cause of national remembrance. I/we will do all in our power to educate our citizens, employees and customers about the existence, meaning and purpose of the flag and its importance to declaring one comprehensive community message of thanks. We will Include the Honor and Remember Flag as a part of our culture and consider its incorporation in our ongoing conversations.
Commission Partners
We are asking all segments of our nation to become Honor and Remember Flag Commission partners. In so doing, you will embody the spirit of the pledge and participate in the achievement of national remembrance. Join us along with thousands of existing supporters, who since our inception in 2008, have already embraced this national campaign. Join us as a commission partner by writing support@honorandremember.org or by signing our petition.